Kostenlose Eizellspendebehandlung!
Kostenlose Eizellspendebehandlung!
Die Stiftung der Kinderwunschklinik Tambre Madrid bietet einem Paar oder einer alleinstehenden Frau die Möglichkeit eine kostenlose Kinderwunschbehandlung in unserer Klinik wahrzunehmen.
Im Paket im Wert von über 9.500€ sind enthalten:
All Non Successful Entrants
All participants will receive a free first visit (including AMH analysis, spermiogram and ultrasound scan) + 1 night at a hotel + free airport pick-up. Or for same-sex  couples, Tambre will arrange two AMH tests and two ultrasounds, instead of the spermiogram.
Closes 22nd August 12am BST.
What's not included in the Premium Plus Package Giveaway? 
– Testing costs (see *Excluded services below)
– All medication needed for treatment
– Other necessary evidence not specified here, such as medical interventions apart from the regular fertility treatment
– Second, third and further transfer
– All other hotel and travel costs (aside from airport pick-up)
*Excluded services:
The tests you'll require at your fist visit.
The terms shown have been prepared by Clinica Tambre, not by Fertility Help Hub. Any successful recipient of treatment or donation should ensure, before redemption, that they are clear about the extent of the free treatment that is being offered, and the additional costs that are excluded from the offer, which will be payable by the recipient.
For women, these include:
General blood tests
Blood group + indirect Coombs
Complete blood count (CBC)
Biochemical analysis
Glucose
ALT/AST/GGT
Creatinine
Urea
Cholesterol (LDL/HDL/VLDL)
Triglycerides
Total bilirubin
Vitamin D
TSH
Antithyroid Antibodies
Coagulation
Fibrinogen
Cephalin
Prothrombin Time (PT)
INR
Karyotype
Serology
Hormones
AMH
Pap smear
Ultrasound scan
Excluded tests for men include:
Serology
Blood group + RH
Karyotype
Sperm test + freezing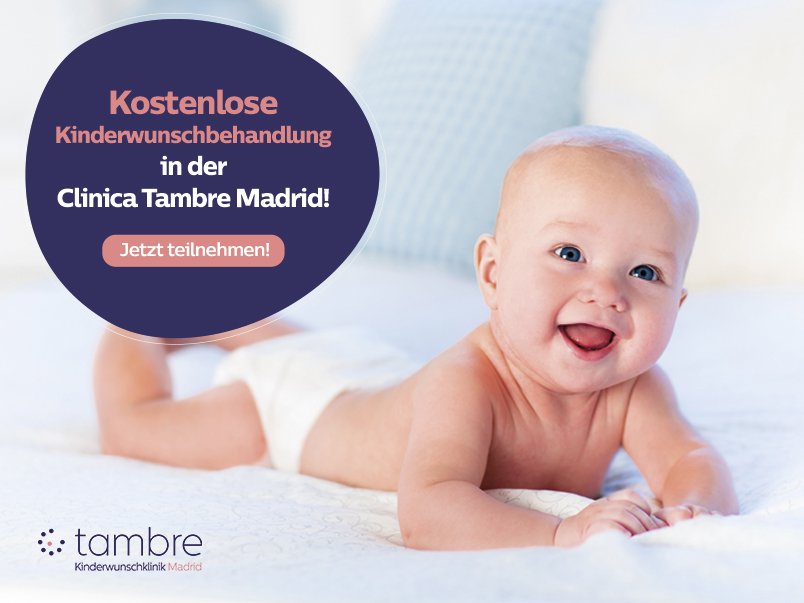 Unsere exzellenten Erfolgsraten, die über dem spanischen und europäischen Durchschnitt liegen, sind das Ergebnis von Engagement, dem besten Fachkräfteteam und hochmoderner Technologien in der Reproduktionsmedizin.
*By entering you are agreeing to the Campaign Terms & Conditions and Clinica Tambre's Rules for the Giveaway.